Common Plumbing Emergencies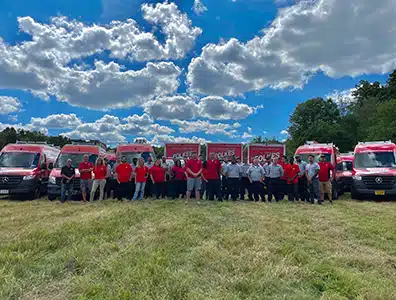 A plumbing emergency Poughkeepsie is always a serious problem, even if it seems like something small at the start. For example, a clogged drain can point to a serious problem that could quickly spiral out of control. Here are some of the most common emergencies we detail and when to call for plumbing repair Poughkeepsie to get on top of the problem and restore your home's functionality.
Overflowing Toilet
An overflowing toilet quickly causes panic and can derail your entire day, especially if you only have one bathroom. Sometimes a good plunger or a simple plumbing repair Poughkeepsie will do the trick, but stubborn or consistent clogs could point to an issue deeper in your pipes or sewer. Don't wait until your toilet is unusable, call a licensed plumber Poughkeepsie today.
Sewage Backup
When sewage backs up into your home, it's always a plumbing emergency Poughkeepsie. Beyond the foul odor, it can also contaminate your home and put your and your family's health at risk. A clogged sewer line or obstructions from tree roots can collect in your sewer and cause a blockage that causes a back-up into your home.
Clogged Drains
Sluggish and clogged drains are usually due to a buildup of hair, grease, food scraps, and other objects. It can quickly turn into an emergency when your kitchen sink or shower are no longer usable. Each clog is unique and requires a specific solution. Call the team at Folkes, and we'll get to work with a video camera inspection, drain augers, and a hydrojet, high-pressure water cleaning to restore the integrity of your drains.
Frozen Pipes
When the cold weather sets in over the Hudson Valley, it's common for pipes to freeze. Any rooms that aren't well-insulated and have pipes running through them could freeze. It's also possible for pipes to freeze when outdoor spigots aren't properly winterized. Call a professional plumber Poughkeepsie before winter hits to avoid burst pipes and leaks.
Burst Pipes
Beyond freezing temperatures, pipes can also burst from excessive pressure from an obstruction or other cause. Older homes with outdated plumbing can also experience deterioration, which can lead to leaks, burst pipes, and a plumbing emergency Poughkeepsie. Call us today! Our team can address the problem and fix it before it gets out of control.
No Hot Water
If your hot water heater isn't working, you need an immediate plumbing repair Poughkeepsie. You need hot water to stay comfortable and protect the health and that of your loved ones. Call an expert to assess the problem. It could require a simple fix, or your water heater may have reached the end of its lifespan, which is usually around 10 years.
Sump Pump Failure
If your sump pump is suddenly making odd noises or vibrating, it could mean you have worn or damaged parts. Constant cycling or not turning on when it's supposed to can also point to signs that your pump needs a repair or replacement. When you let the problem go, it could lead to flooding and water damage in your basement and lead to costly repairs.
Your Water Tastes Bad
Does your water taste bad, smell off, or look strange? You may have a water quality problem, especially if your home has old plumbing or a new well. Call Folkes today, and we can check for nitrates and other issues to come up with a solution that works for your home and restore your water.
Call Folkes Home Services Today
Are you dealing with a plumbing emergency Poughkeepsie and need help right away? We're here to help. We've served the Hudson Valley area since 1998 and are ready to perform any heating, cooling, or plumbing service. We can take care of anything from plumbing emergencies to maintenance, as well as air conditioning repair and more. Call the experts at Folkes Home Services today at 845-896-4328.