Water Heaters in Poughkeepsie, NY
Folkes Home Services is committed to restoring your hot water without delay, no matter the issue. Our priority is responding promptly to your call, dispatching an expert to your doorstep with speed, and delivering the solutions you need ASAP.
Contact us now, and we'll work diligently to reinstate your hot water supply in no time. Don't endure the inconvenience of living without hot water when you can rely on our team of experts to handle everything for you.
Book Online
Book Online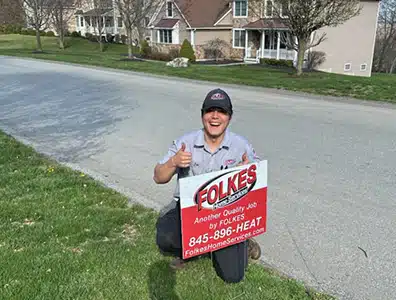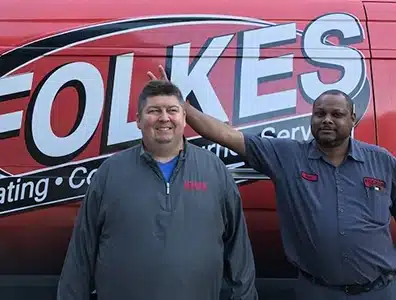 With Folkes, You Always Get
Safety first by thinking twice and acting once.
Delivering "wow" through service by exceeding every customer's expectations.
Demonstrate high levels of integrity by doing the right thing even when no one is watching.
Why Trust Us for Water Heater Services in Poughkeepsie, NY
At Folkes Home Services, we take pride in being the trusted water heater experts in Poughkeepsie. Our customers choose us for several reasons:
We provide transparent upfront pricing and offer convenient financing options.
Your home is treated with the utmost care and respect as if it were our own.
Our licensed technicians are not only knowledgeable but also friendly and approachable.
We are available 24/7 to handle any water heater emergencies.
Our unwavering commitment is to prioritize our customers' needs above all else.
Tankless Water Heaters
For tankless water heater needs, reach out to our team. Whether it's installing a new unit or restoring a malfunctioning one, we'll provide fast and efficient solutions to get your tankless water heater back on track. Get your tankless water heater installation in Poughkeepsie completed ASAP when you call us now.
Water Heater Repair in Poughkeepsie
For all your needs pertaining to water heater repair in Poughkeepsie, our skilled plumbers are at your service. Thoroughly examining your water heater, we'll diagnose the root cause of the problem and work tirelessly to deliver the solutions you require promptly. Rest assured, we won't let you go without hot water for long!
Water Heater Installation in Poughkeepsie
Should you need a new water heater, there's no need to fret. Our team will take the time to understand your hot water usage patterns and requirements. With this information, we'll guide you in selecting the ideal water heater to suit your system and needs. Installation will be carried out with precision, ensuring it functions optimally before we leave.
Water Heater Maintenance
Regular maintenance or water heater service in Poughkeepsie is vital to ensure your water heater operates at its best and reduce the risk of sudden hot water shortages. We'll diligently flush your heater, replace the anode rod if necessary, and thoroughly inspect all components. Any required repairs will be addressed swiftly.
Your Trusted Water Heater Experts
At Folkes Home Services, we are your reliable water heater experts. Call us now, and we'll be on our way to assist you promptly. Count on us whenever you need your hot water restored swiftly and efficiently.
Book Online
Book Online
Our Water Heater Services
We offer a large range of water heater services, including:
Water Heater Repairs in Poughkeepsie
Water Heater Installations in Poughkeepsie
Tankless Water Heaters in Poughkeepsie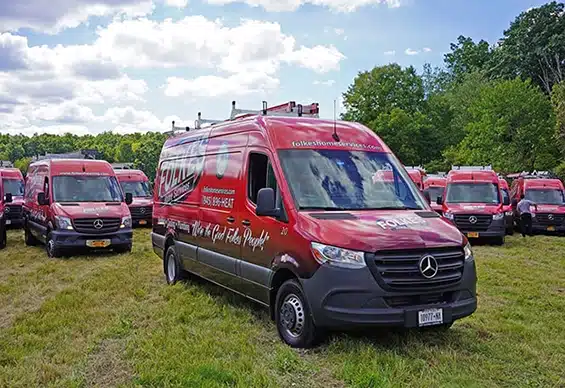 Service in Your Neighborhood
Serving the Hudson Valley & Surrounding Area