HVAC Services in Poughkeepsie, NY
Call us at Folkes Home services now or anytime you need help with your HVAC system in Poughkeepsie, NY. We will send the best possible specialist to you ASAP so we can make sure you have the heating and cooling power you need. Relax at home again when you entrust your comfort to our skilled team.
Book Online
Book Online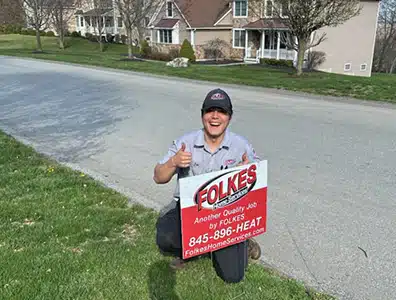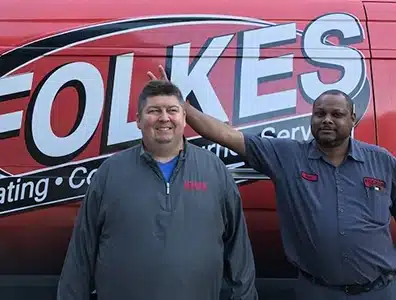 With Folkes, You Always Get
Safety first by thinking twice and acting once.
Delivering "wow" through service by exceeding every customer's expectations.
Demonstrate high levels of integrity by doing the right thing even when no one is watching.
HVAC Services
Our team can take care of any problems with your HVAC in Poughkeepsie, NY that you might need. We work on a wide variety of systems, and our specialists can always help. We get back to you fast, look through your system's needs, then get to work.
We won't leave your house until your HVAC in Poughkeepsie works again. Call us if you need:
HVAC Repair in Poughkeepsie
HVAC Replacement and Installation
HVAC Maintenance
Heating Services
In the event that you need help with heating and cooling in Poughkeepsie, our skilled team will promptly address the issue. We urge you to reach out to us without delay so that we can arrive at your location ASAP and restore warmth to your home. Place a call now, and an expert heating technician will be dispatched swiftly. You can trust us to provide the following services:
Heating Repair
Heating Installation
Heating Maintenance
Furnace Repair, Installation & Maintenance
Heat Pump Repair in Poughkeepsie
Heat Pump Installation in Poughkeepsie
Heat Pump Service in Poughkeepsie
Boiler Repair, Installation, & Maintenance
Cooling Services
Our team's goal is always to keep you cool. We have been working on air conditioners in Poughkeepsie, NY for years, so we will help you stay cool no matter what. Call us as soon as you notice a problem. Our team can help you with:
Air Conditioning Repair
Air Conditioning Installation
Air Conditioning Maintenance
Heat Pump Repair, Installation & Maintenance
Indoor Air Quality Services
If you find yourself worried about your air quality in Poughkeepsie, NY, we've got your back. We'll swing by your place to evaluate your needs and assist you in setting up a top-notch system that ensures constant freshness and cleanliness in the air you breathe. Reach out to us for the following services:
Air Filtration
Air Purification
Dehumidifiers & Humidifiers
Air Duct Cleaning in Poughkeepsie, NY
Call for HVAC Help Today!
No matter what you need for your HVAC system, from duct cleaning in Poughkeepsie, NY, our team will help you achieve your goals. Call now and we will be there soon.
Book Online
Book Online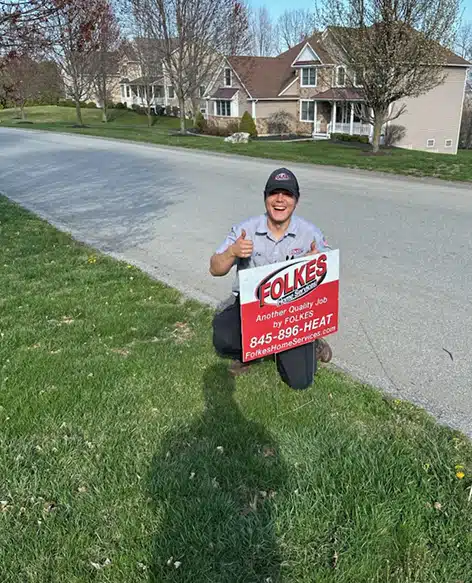 Air Handlers
The air handler is the indoor component of a heat pump system. It includes the fan and the heating/cooling coil. The air handler is designed for a particular refrigerant, so it must be matched with the heat pump or air conditioner.
We offer many air handlers with variable and multi-speed features that can provide enhanced indoor comfort by slowly ramping up to your thermostat setting rather than simply turning on at full speed. This alleviates the "cold air blow" often associated with single speed air handlers, and dramatically reduces system noise.
Thermostats
Thermostats are used to turn on heating or cooling systems to bring the home to a set temperature. In addition to basic temperature control, programmable thermostats can be used to manage the indoor environment of your home at different times of the day or week. This type of control can have a dramatic impact on the overall energy use of your home. We carry a complete line of thermostats. Let us help you choose the one that best matches your lifestyle.
Book Online
Book Online
Other HVAC Services
We offer additional HVAC services, including:
Commercial HVAC Services in Poughkeepsie
Oil to Gas Conversions
Emergency HVAC in Poughkeepsie
Mini Split HVAC in Poughkeepsie
Duct Cleaning in Poughkeepsie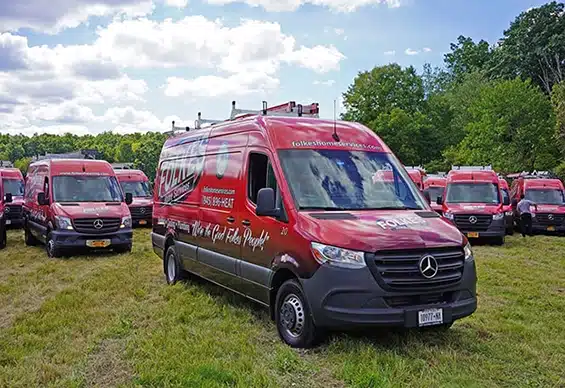 Service in Your Neighborhood
Serving the Hudson Valley & Surrounding Area