Heating Repair in Poughkeepsie, NY
At Folkes Home Services, we are here to address any issues you have with your heating in Poughkeepsie. From our experience, we have encountered and successfully resolved a variety of common issues, including:
Clogged air filters
Pilot lights that fail to ignite or remain lit
Malfunctioning thermostats
Broken blower fans
Power supply issues to the furnace
Book Online
Book Online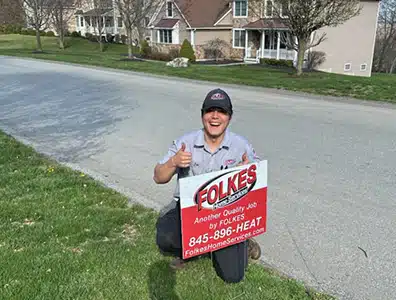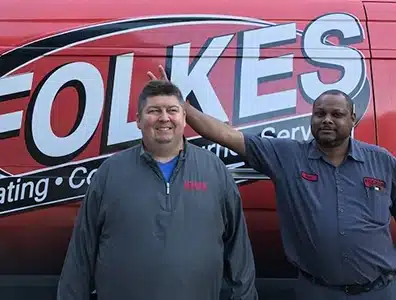 With Folkes, You Always Get
Safety first by thinking twice and acting once.
Delivering "wow" through service by exceeding every customer's expectations.
Demonstrate high levels of integrity by doing the right thing even when no one is watching.
Signs You Need Heater Repair in Poughkeepsie
If you are uncertain whether your heating system requires repair in Poughkeepsie, it's important to be attentive to potential signs that indicate underlying problems. While a complete furnace or boiler failure may not be the issue, minor performance issues can be indicators that your heater is struggling and in need of repair.
Our skilled pros specializing in heating repair in Poughkeepsie can diagnose and address these concerns. Look out for the following signs that you may require heater repair:
Your heating system is not functioning at all
Your heater cycles on and off rapidly, preventing you from achieving desired warmth
Cold air is being blown out by your heater
Unusual or loud noises are emitted by your heater
Your heating oil in Poughkeepsie is not flowing properly in the system
The temperature adjustments made at the thermostat are not reflected in the heater's response
Even when the heater appears to be working, you still feel uncomfortably cold at home
A sudden, unexpected increase in your monthly energy bill
Our Poughkeepsie Heater Repair Process
If you suspect the need for heater repair in Poughkeepsie, it is crucial to address the issue promptly to prevent further deterioration. With our expertise in various heating systems, we are well-equipped to handle furnace and heat pump repairs as well.
Contact us to initiate your heating repair in Poughkeepsie. Our friendly scheduling staff will connect you with an HVAC specialist who possesses the necessary expertise. Together, we will determine a convenient time for the specialist to assess your heating system.
Our technicians who specialize in heating in Poughkeepsie are always punctual and strive to provide a reassuring experience. They will gather detailed information about your heating issues, enabling them to perform a thorough examination.
After a comprehensive evaluation and consultation with you, our technicians will identify the faulty component and explain our process for heater repair in Poughkeepsie. With your approval, they will commence the necessary repairs, keeping you informed about the progress and estimated completion time.
Upon completion of your heating repair in Poughkeepsie, we will conduct thorough testing to ensure optimal functionality. Your satisfaction is our priority, and once you are content with the repair, we will promptly wrap up our work and allow you to resume your daily routine.
Contact Us for Heater Repair in Poughkeepsie Today
Reach out to our team at Folkes Home Services today for efficient and reliable heater repair in Poughkeepsie. We are committed to promptly addressing your heating concerns, identifying the problem, and implementing an effective solution. Our goal is to restore your heat as quickly and efficiently as possible, ensuring your comfort during the colder months.
Book Online
Book Online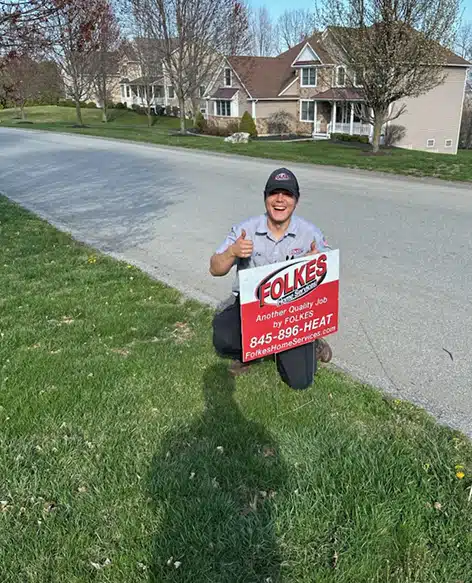 Other Heating Services
We also offer emergency heating services for both furnaces and boilers. Call us when you need furnace repair in Poughkeepsie or boiler repair in Poughkeepsie and we'll be there ASAP, no matter when you need us.
Reach out to our team for maintenance or servicing, too. Our team can take care of your furnace service in Poughkeepsie, NY or boiler service in Poughkeepsie, NY quickly and efficiently to make sure you always have the heat you need.
Book Online
Book Online
Other HVAC Services
We offer additional HVAC services, including:
Commercial HVAC Services in Poughkeepsie
Oil to Gas Conversions
Emergency HVAC in Poughkeepsie
Mini Split HVAC in Poughkeepsie
Duct Cleaning in Poughkeepsie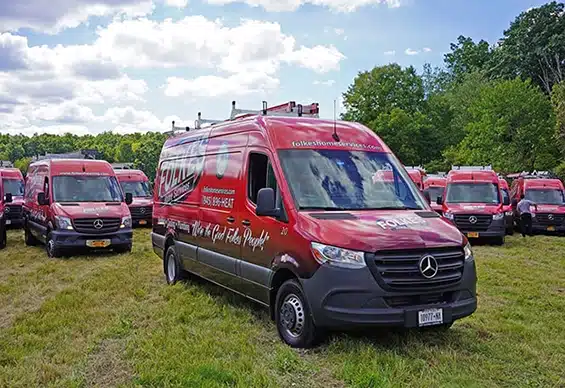 Service in Your Neighborhood
Serving the Hudson Valley & Surrounding Area