Water Heater Repair in Poughkeepsie, NY
Are you experiencing water heater troubles? Look no further than Folkes Home Services in Poughkeepsie, NY. We possess the expertise and experience needed to swiftly repair your water heater. Our skilled team will identify the root cause of the issue and implement the right repair solution from the outset.
Don't delay – the moment you notice a water heater problem, contact us immediately. Timely repairs can prevent major disruptions to your daily routine and spare you from potential larger issues down the line. We work on tankless water heaters, too, so you can call us no matter how your system is set up.
Book Online
Book Online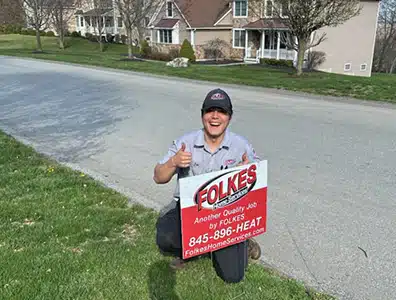 Our Water Heater Services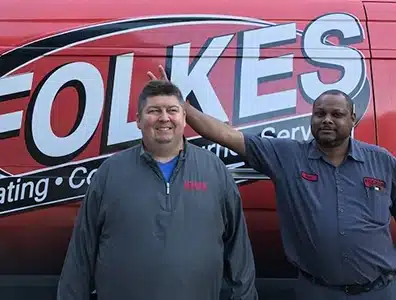 With Folkes, You Always Get
Safety first by thinking twice and acting once.
Delivering "wow" through service by exceeding every customer's expectations.
Demonstrate high levels of integrity by doing the right thing even when no one is watching.
When to Seek Water Heater Repair in Poughkeepsie
Uncertain whether your water heater issues warrant professional attention? We'd be happy to assess your water heater and provide expert advice. Call for water heater repair in Poughkeepsie when:
You're experiencing insufficient hot water for regular activities, such as showering.
The water isn't as hot as it used to be.
Unusual sounds emerge when the water heater is in operation.Your water heater isn't producing any hot water.
There are visible leaks from the water heater.
Common Water Heater Repair Issues
Leaky water heaters and inadequate heating are frequent concerns. Many of these problems arise due to inadequate water heater maintenance, which could be addressed beforehand with routine maintenance visits.
Water Heater Repair in Poughkeepsie vs. Replacement
While the final decision rests with you, there are instances when opting for a new water heater may prove more cost-effective than repairing the old one. We recommend considering replacement when:
Frequent repairs are necessary.
The water heater is aging and may require further repairs soon.
The repair cost exceeds half the price of a new unit.
Regardless of your choice, we'll efficiently address the issue, restoring your hot water supply promptly.
Our Water Heater Repair Process
When you reach out for water heater repair in Poughkeepsie, we'll work with you to schedule a convenient appointment. Our punctual plumbers will promptly commence their work, diagnosing the problem and effecting the necessary repair. They won't leave until your water heater is fully operational once more.
Call for Water Heater Repair Today
Contact Folkes Home Services today, or whenever you need water heater help in Poughkeepsie. We'll promptly attend to your needs, working efficiently to get your hot water flowing again ASAP. Book an appointment with us now and experience our exceptional service firsthand!
Book Online
Book Online
Our Water Heater Services
We offer a large range of water heater services, including:
Water Heater Repairs in Poughkeepsie
Water Heater Installations in Poughkeepsie
Tankless Water Heaters in Poughkeepsie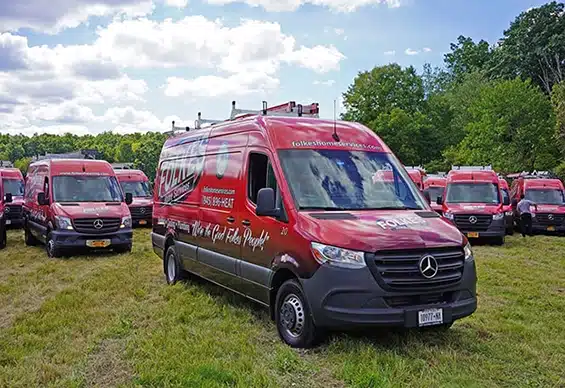 Service in Your Neighborhood
Serving the Hudson Valley & Surrounding Area