Water Heater Installation Poughkeepsie
24/7 Emergency Service
Water Heater Installation & Replacement in Poughkeepsie, NY
If you find yourself in need of a new water heater in Poughkeepsie, NY, look no further than Folkes Home Services. Our expert team is here to assist you in finding the perfect water heater for your home. From traditional gas and electric units to tankless options, we'll help you discover the one that best suits your needs.
Book Online
Book Online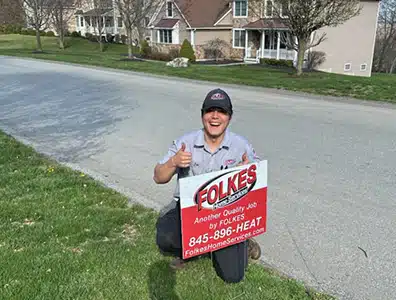 Our Water Heater Services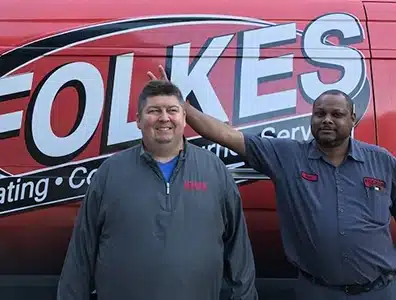 With Folkes, You Always Get
Safety first by thinking twice and acting once.
Delivering "wow" through service by exceeding every customer's expectations.
Demonstrate high levels of integrity by doing the right thing even when no one is watching.
When to Consider a New Water Heater Installation in Poughkeepsie
Uncertain about investing in a new water heater? We understand your concerns about spending money unnecessarily. Our professionals will guide you in selecting the best water heater for your requirements, and we'll handle the installation process for you. Give us a call if:
Your existing water heater requires costly repairs.
Frequent and accumulating repair costs are becoming burdensome.
Your current water heater fails to provide enough hot water for your household's needs.
You desire a larger water heater or a different type of water heating system.
Finding the Perfect New Water Heater
Rest assured that we'll assist you in finding the ideal water heater that meets your specific needs. Our team will ask you a few essential questions to tailor the solution to your requirements. We'll inquire about:
The number of occupants in your home.
The frequency of your water heater usage.
Your preferences for energy-saving options.
Your interest in exploring alternative systems.
Whether your current unit meets your hot water demands.
Our Poughkeepsie Water Heater Installation Process
When you entrust us with water heater installation in Poughkeepsie, we'll be with you every step of the way. Starting with the selection of the perfect water heater, we'll ensure proper installation according to the manufacturer's specifications. Before concluding the project, we'll thoroughly test your new water heater and invite you to do the same. In no time, you'll have an abundant supply of hot water!
Your satisfaction is paramount to us. If you have any concerns about your new water heater, we'll work diligently until you're completely content. Additionally, we'll provide guidance on maintenance practices to keep your water heater running optimally for years to come.
Water Heater Lifespan and Size Considerations
Typically, water heaters have a lifespan of 10-12 years, or even longer with proper care. However, this isn't a guarantee. If you're uncertain about your water heater's age or its current condition, reach out to us for a thorough assessment.
The size of your water heater largely depends on the number of occupants in your home. Standard heaters with capacities of 40-50 gallons usually suffice for 4-5 people. For each additional person, add 10 gallons. If you have higher water consumption needs or multiple simultaneous showers, a larger water heater might be more suitable. We'll gladly help you find the right fit.
Get Your New Water Heater Today
Don't wait any longer! Contact our experts at Folkes Home Services today for prompt assistance with your new water heater. We'll handle the installation, ensuring it runs smoothly and efficiently. Count on us for all your water heater needs in Poughkeepsie, NY.
Book Online
Book Online
Our Water Heater Services
We offer a large range of water heater services, including:
Water Heater Repairs in Poughkeepsie
Water Heater Installations in Poughkeepsie
Tankless Water Heaters in Poughkeepsie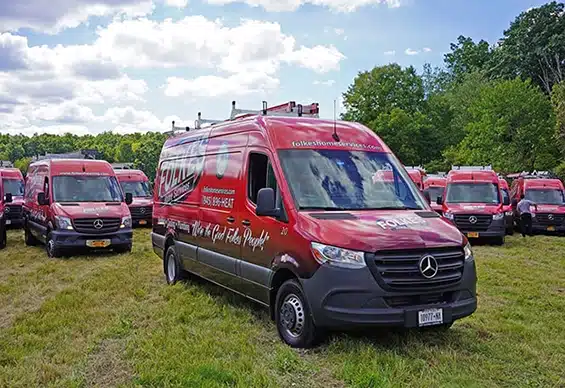 Service in Your Neighborhood
Serving the Hudson Valley & Surrounding Area