Poughkeepsie Heating Installs & Replacement
24/7 Emergency Service
Heating Installation & Replacement in Poughkeepsie, NY
When the time comes for a new heater and you require heating installation in Poughkeepsie or the neighboring area, count on Folkes Home Services to meet your needs! Our team of heating experts is here to assist you in finding the perfect heater for your home.
We understand that every home has unique heating requirements, which is why we take a personalized approach to selecting a new heater for you. We'll provide you with a selection of heating options that align with your specific needs. Once you've made your decision, we'll take care of the entire installation process for you. Reach out to us today for professional heater installation in Poughkeepsie!
Choose Folkes Home Services for your next heating equipment upgrade or replacement. We provide:
Free in-home consultation with one of our HVAC specialists.
Help selecting an energy-efficient heating and air conditioning system that meets your comfort preferences and lifestyle.
Proper sizing of the equipment to meet the unique needs of your home.
A convenient way to pay for your installation through our special financing options with approved credit.
Full factory warranties on all equipment and labor.
Book Online
Book Online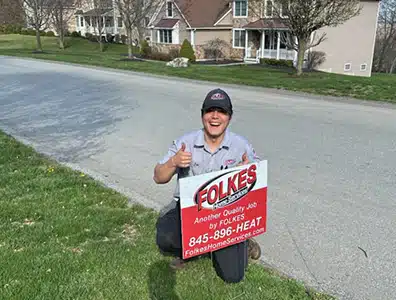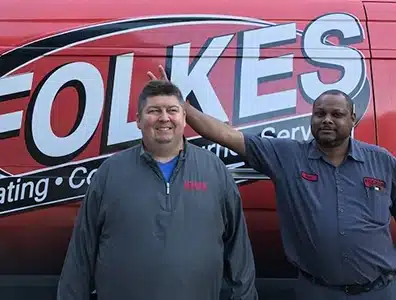 With Folkes, You Always Get
Safety first by thinking twice and acting once.
Delivering "wow" through service by exceeding every customer's expectations.
Demonstrate high levels of integrity by doing the right thing even when no one is watching.
Signs It's Time for Boiler or Furnace Replacement in Poughkeepsie, NY
If you're unsure whether your heating system requires repair or replacement, here are several indications that it may be time to consider replacement:
Unusual noises coming from your heater
Decreased efficiency and an aging system (over 15 years old)
Inconsistent heating in Poughkeepsie throughout your home
Constantly running or cycling on and off
Frequent and costly heating repairs
If you're experiencing any of these issues, it's likely time for furnace or boiler installation in Poughkeepsie. Contact us today to explore how we can assist you!
Choosing the Right Heater for Installation in Poughkeepsie
When it comes to selecting a new boiler or furnace install in Poughkeepsie, NY, it's important to make the right choice that suits your specific needs. We understand that investing in a new heater is a significant decision. Our experienced heating installation and replacement professionals will guide you through the process, considering factors such as:
The size of your home (square footage)
Your heating usage patterns and duration
Your budgetary considerations
Your energy conservation preferences
Taking all these factors into account, we will recommend heaters from reputable manufacturers, ensuring that we only offer options that meet our own high standards.
Initiate Your Heater Installation in Poughkeepsie Today
Call us at Folkes Home Services to get started on your new furnace or boiler installation in Poughkeepsie today. We prioritize a prompt response, ensuring that we reach you quickly to help you select the right heater for your needs. Once chosen, we'll work efficiently to have your new heater up and running as soon as possible. Reach out to us and one of our knowledgeable heating experts will be on their way to assist you!
Book Online
Book Online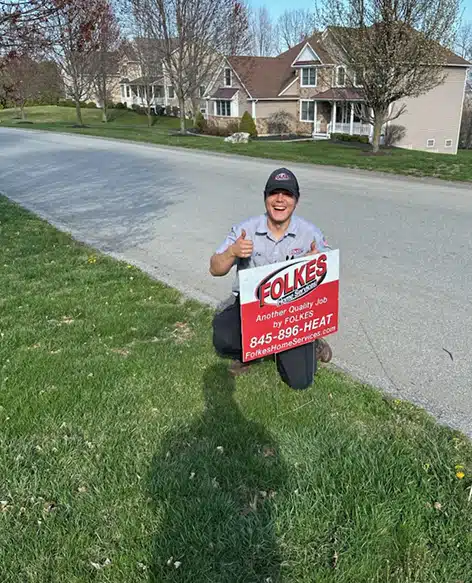 Our Process For Installing Heating in Poughkeepsie
At Folkes Home Services, we handle every aspect of your new boiler or furnace install in Poughkeepsie, NY, from ordering and delivery to the final testing and commissioning. Our skilled technicians will follow manufacturer guidelines and specifications to ensure a proper installation, leaving you with peace of mind.
We won't consider the job complete until you are fully satisfied with your heating installation in Poughkeepsie, backed by our comprehensive warranties.
Book Online
Book Online
Other HVAC Services
We offer additional HVAC services, including:
Commercial HVAC Services in Poughkeepsie
Oil to Gas Conversions
Emergency HVAC in Poughkeepsie
Mini Split HVAC in Poughkeepsie
Duct Cleaning in Poughkeepsie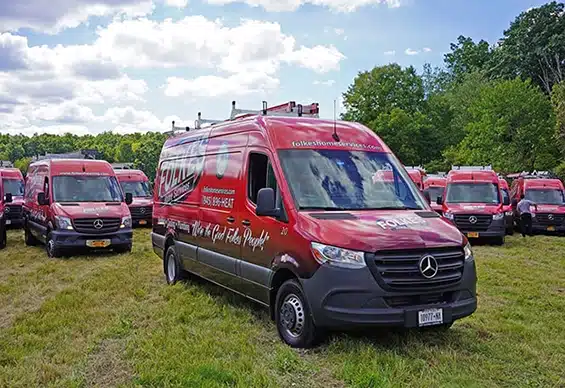 Service in Your Neighborhood
Serving the Hudson Valley & Surrounding Area