Fishkill Plumbing and HVAC Services
Whether you need a plumbing repair, drain cleaning, HVAC services, or emergency plumbing services in Fishkill, the team at Folkes Home Service can help. We provide a wide range of services to keep your home functioning and feeling comfortable again.
We know every service call is urgent, whether it's an emergency or you need maintenance for your systems before the weather changes. No matter what you need, our team of licensed plumbers and HVAC technicians are here 24-hours a day, 7-days a week. We can assess whether you need a simple repair, maintenance, or the installation of a boiler, furnace, or mini split system and more. Our team of licensed HVAC technicians can also handle oil-to-gas conversion to help make your home more efficient.
Ready to get your home up and running again? Call Folkes Home Services at 845-896-4328 to schedule an appointment.
Book Online
Book Online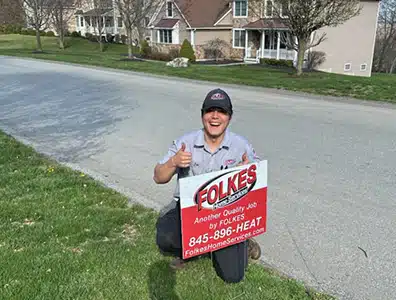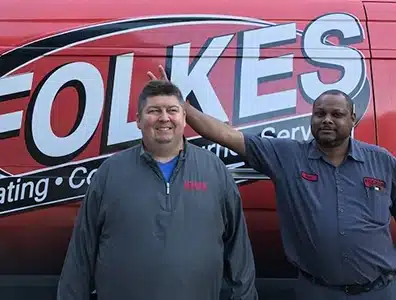 With Folkes, You Always Get
Safety first by thinking twice and acting once.
Delivering "wow" through service by exceeding every customer's expectations.
Demonstrate high levels of integrity by doing the right thing even when no one is watching.
Get Plumbing Fishkill Help Today
When your plumbing is working properly, it brings your home to a standstill. We can help with all of the services you need, from Fishkill backflow prevention and testing to drain cleaning and beyond. Here are some of the services we offer to keep your plumbing working and your water safe.
Fishkill Plumbing Repair
Sometimes a plumbing repair is as simple as a leaky faucet or a stubborn clog. Although you can troubleshoot some things on your own and reach for a plunger, you should never let a plumbing problem go on for too long. Call one of our licensed plumbers today to figure out if you have a superficial leak or a problem hidden deep in your sewer system.
Fishkill Emergency Plumbing Services
Plumbing emergencies can't wait until the morning. Whether it's a weekend or the middle of the night, call the team at Folkes Home Services to help. We'll get there as soon as possible to take care of your burst pipe, sewage backup, uncontrollable leak, or other issue.
Fishkill Drain Cleaning
Are your drains backed up and smelling like sulfur or other foul odors? You could have bacteria growing in your drains due to a clog or other issue. Professional drain cleaning in Fishkill can resolve the problem and get your drains working and clean again to protect you and your family's health.
Fishkill Backflow Prevention and Testing
Backflow prevention is a device that's installed by a licensed plumber in Fishkill to allow water to keep flowing freely in one direction. When it works properly, it prevents water from going backwards into the main water supply and keeps your water lines clean from wastewater and contaminants. Call our team to install a new device or test the one you have to ensure it's working properly.
Fishkill Leak Detection and Repair
Sometimes a leak is an obvious emergency, but other times it's subtle and grows over time. They can also be hidden and collect water in your slab, walls, or other areas. If you hear water you can't locate or your water bills are suddenly skyhigh, call us right away to schedule your Fishkill leak detection and repair to ensure your home stays dry and safe.
Fishkill Water Heater Repair and Installation
Even the most reliable water heaters Fishill will eventually go out, need repair, or require a total replacement. Call us today to assess the problem, and we'll come up with a solution that works for your needs and budget. We offer prompt service and financing options to help restore your hot water and peace of mind.
Why Choose Folkes Home Services?
Folkes Home Services and Cooling has served the Hudson Valley since 1998. We are ready to step in and resolve any heating, cooling, or plumbing service in Fishkill you need. Whether it's no heat or a plumbing problem, our team is here with friendly, courteous service. Our goal is to exceed your expectations and get your home working again. Call the team at Folkes Home Services today at 845-896-4328.
Book Online
Book Online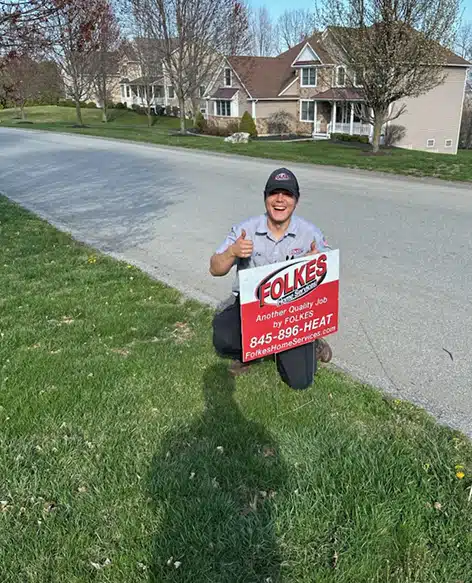 Fishkill Sewer and Septic Service
Are you dealing with a sewer or septic issue in Fishkill? The problem may feel overwhelming, but we can help. Our licensed plumbers can handle any problem, no matter how big. We'll take a look at what's going on, talk through the issue, possible solutions, and cost, and get to work. All you need to do is rest easy while we get everything working again.
Fishkill Gas Line Services
A licensed, certified plumber can also run gas lines to carry your natural gas from its source to your heating system. A gas issue cannot wait and should always be treated as an urgent matter. If you have a gas pipe problem, you may notice a foul odor like rotten eggs, plants dying in specific areas of your home or porch, hissing noises, or high utility bills.
Fishkill Water Treatment
Are you concerned about your water quality or notice that it smells or has sentiment? You could be risking your health and that of everyone who comes to your home. Contact our team of Fishkill plumbers right away to test your water and come up with treatment solutions.
Book Online
Book Online
Fishkill Emergency HVAC Services
When the heat of summer settles in or the winter months roll in, a broken AC or heater can't wait. We offer emergency HVAC services in Fishkill to restore the comfort of your home. Call us 24 hours a day, 7 days a week, and we'll get someone to your home as soon as possible.
Fishkill AC Repair
Everyone deserves a home they enjoy and can sleep comfortably in. If your AC isn't cooling like it used to, you suspect a freon leak, or your energy bills are excessive, we can help. Call us right away to schedule your AC Fishkill repair.
Fishkill AC Maintenance
Your AC should be cleaned, maintained, and checked at least once a year. If you put off your regular AC maintenance in Fishkill, you could compromise the integrity of your system or decrease its lifespan.
Fishkill AC Installation
At some point, your home will need a new AC system once it's 10 to 20 years old. The lifespan can depend on how well you maintain your unit, if you make on-time repairs, and whether or not you have a newer, more energy-efficient model. Our HVAC Fishkill technicians can determine whether or not it's worth repairing your unit or installing a new one to enjoy energy efficiency savings and get your home feeling cool again.
Fishkill Heating Repair
When winter strikes in Fishkill, you need a reliable heater right away. Don't compromise your health or your family's with a faulty heater that isn't keeping your home warm. Call us today for Fishkill heating repair to get your home up and running.
Fishkill HVAC Maintenance
HVAC maintenance is an integral part of keeping your home up and running and functioning properly. Call our team to schedule regular Fishkill HVAC maintenance to protect the integrity of your system and maximize its lifespan.
Fishkill HVAC Installation
An HVAC system lasts around 10 to 15 years, but it also depends on how well it is maintained. In some situations, it's also a good idea to schedule your Fishkill HVAC installation to create a more energy-efficient home and lower your utility bills. We work with a variety of brands and manufacturers to find a solution that works for you.
Fishkill Boilers
A boiler is a device that produces either hot water or steam to heat a home and uses gas, oil, or coal. The heated water is then sent through a system of radiators placed throughout a home to provide indoor heating. If you're not getting the warmth you need, call Folkes Home Services right away.
Fishkill Furnaces
When your furnace isn't working properly, you need help before your home gets too cold. We fix Fishkill furnaces to make sure your home is warm and cozy all winter.
Fishkill Mini Split Systems
If you're looking for a new heating and cooling system, a mini-split system could be a good option for you. It doesn't require ductwork and instead delivers air conditioners to single rooms or zones, which can also optimize your energy efficiency and lower your bills.
Fishkill Oil to Gas Conversions
If your furnace needs an update or you're interested in a more efficient and reliable unit, you may want to consider an oil-to-gas conversion. The process could lower your bills and prove more convenient and cost-effective than your current setup. Call the team at Folkes Home Services to discuss installing a natural gas burner in your existing oil furnace.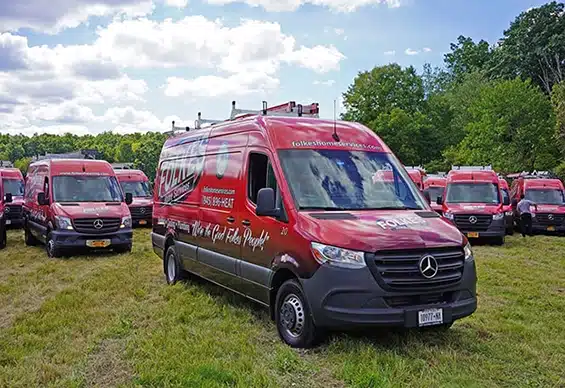 Service in Your Neighborhood
Serving the Hudson Valley & Surrounding Area