Poughkeepsie AC Installs & Replacement
24/7 Emergency Service
Air Conditioning Installation & Replacement in Poughkeepsie, NY
When you find yourself in need of an air conditioning installation in Poughkeepsie, NY, you can rely on the expertise of our team at Folkes Home Services. We understand the urgency of your AC requirements, and we'll promptly arrive at your location to ensure a swift and efficient installation process.
Choose Folkes Home Services for your next AC equipment upgrade or replacement. We provide:
Free in-home consultation with one of our HVAC specialists.
Help selecting an energy-efficient heating and air conditioning system that meets your comfort preferences and lifestyle.
Proper sizing of the equipment to meet the unique needs of your home.
A convenient way to pay for your installation through our special financing options with approved credit.
Full factory warranties on all equipment and labor.
Book Online
Book Online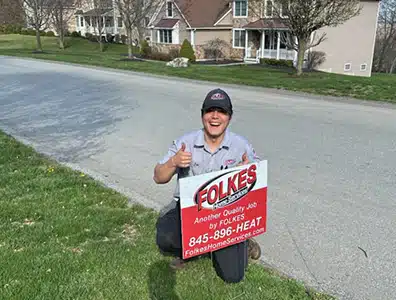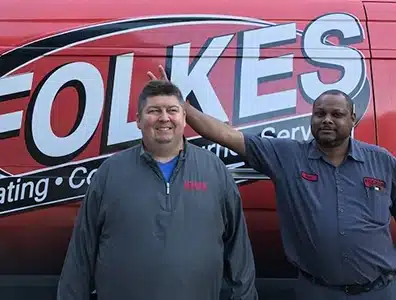 With Folkes, You Always Get
Safety first by thinking twice and acting once.
Delivering "wow" through service by exceeding every customer's expectations.
Demonstrate high levels of integrity by doing the right thing even when no one is watching.
Signs It's Time for AC Replacement in Poughkeepsie, NY
Investing in a new AC system offers several advantages, including enhanced energy efficiency, improved safety, and heightened comfort in your home. Keep an eye out for these signs that indicate it's time for an AC replacement in Poughkeepsie, NY:
Your AC unit is over 15 years old and requires frequent, costly repairs.
Your energy bills have steadily increased despite efforts to reduce usage.
Your AC fails to cool your home evenly, resulting in noticeable warm spots.
Unusual noises or leaks are emanating from your AC.
The cost of repairs exceeds half the price of a new unit.
If you're experiencing any of these issues, it's crucial to call for help with your air conditioning in Poughkeepsie ASAP.
Benefits of Installing a New AC System in Poughkeepsie
Whether you're constructing a new home or replacing an outdated AC system, installing modern air conditioning in Poughkeepsie comes with several advantages:
Enhanced comfort: Modern AC systems provide more consistent and reliable cooling, creating a more pleasant home environment.
Increased energy efficiency: Newer AC units consume less energy, leading to cost savings on your energy bills.
Improved indoor air quality: Many more modern AC systems feature advanced filtration systems that enhance the air quality in your home or office.
Reduced environmental impact: Opting for an energy-efficient AC system contributes to reducing your carbon footprint and making a positive impact on the planet.
Choosing the Perfect AC Unit for Installation in Poughkeepsie
As your AC company in Poughkeepsie, we will guide you in selecting the most suitable AC unit for your specific needs and budget. Factors we'll consider include:
The size of your home
Whether an energy-efficient unit is ideal for your requirements
Your desired level of cooling for your home
Frequency of AC usage
Schedule Your Poughkeepsie Air Conditioning Installation Today
Contact Folkes Home Services today or whenever you need an air conditioning company in Poughkeepsie. We'll swiftly respond to your call and ensure that you receive the cooling power you need in the shortest possible time. Schedule your appointment now to embark on a comfortable and refreshing home environment.
Book Online
Book Online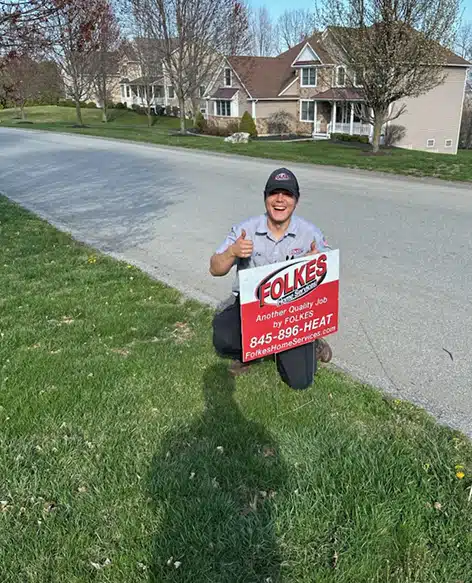 Our Process for Air Conditioning Installation in Poughkeepsie
Once you contact us to discuss your new air conditioner, we'll promptly respond to your request. We'll engage in a detailed conversation to understand your needs and present a range of options. We want you to feel confident in your choice of a new AC installation in Poughkeepsie.
Upon selecting the AC unit, we'll initiate the installation process. We conduct tests throughout the installation and ensure the entire system is functioning optimally to provide you with effective cooling. Call us today to commence your AC installation in Poughkeepsie!
Book Online
Book Online
Other HVAC Services
We offer additional HVAC services, including:
Commercial HVAC Services in Poughkeepsie
Oil to Gas Conversions
Emergency HVAC in Poughkeepsie
Mini Split HVAC in Poughkeepsie
Duct Cleaning in Poughkeepsie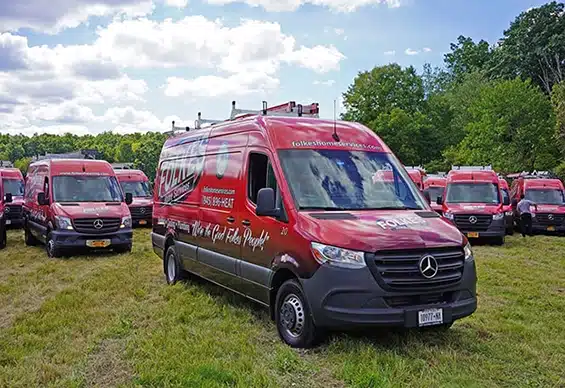 Service in Your Neighborhood
Serving the Hudson Valley & Surrounding Area