Heating Maintenance in Poughkeepsie, NY
Our heaters play a crucial role in keeping us warm during the coldest nights. However, just like any other appliance, heaters can experience malfunctions or breakdowns, leading homeowners to seek costly heating repair in Poughkeepsie or even consider a heater replacement. The best way to prevent such issues is through regular heater maintenance in Poughkeepsie!
By scheduling an annual furnace or boiler service in Poughkeepsie, NY with Folkes Home Services, you can leave the maintenance tasks to us. If you're in need of heating maintenance, don't hesitate to give us a call!
Book Online
Book Online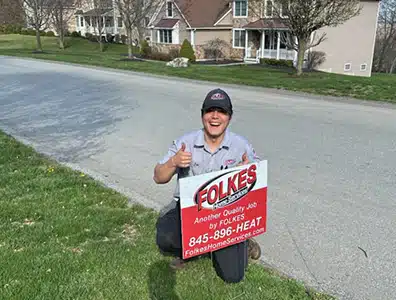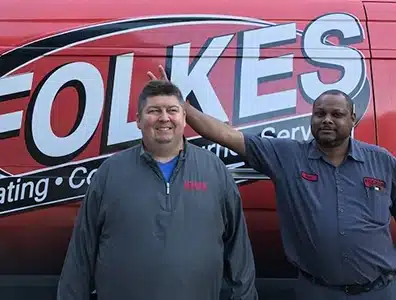 With Folkes, You Always Get
Safety first by thinking twice and acting once.
Delivering "wow" through service by exceeding every customer's expectations.
Demonstrate high levels of integrity by doing the right thing even when no one is watching.
Benefits of Heater Maintenance in Poughkeepsie
Heating maintenance in Poughkeepsie offers numerous benefits, some of which you may not have considered before. Regular upkeep of your furnace or boiler can:
Extend the lifespan of your heater: When your heater runs smoothly and efficiently, it experiences less wear and tear, leading to a longer lifespan.
Increase energy efficiency: When your heating system operates at peak efficiency, it consumes less energy, resulting in lower energy bills.
Prevent costly repairs: By conducting routine heating maintenance, potential problems can be identified and resolved early on, preventing major issues that may require expensive repairs or replacements.
Save you money: With a well-maintained system, you won't have to spend as much on repairs or replacements. The cost of a heater tune-up is often offset by the money saved in the long run.
If these advantages sound appealing, don't hesitate to contact us and schedule your heater maintenance in Poughkeepsie. We'll promptly send out a skilled heating professional to inspect and optimize your heater.
Get Heating Maintenance in Poughkeepsie Today
Contact us today for professional maintenance for your heating in Poughkeepsie and discover how Folkes Home Services can help you stay warm while saving on energy costs. Our dedicated heating team is ready to assist you with keeping your furnace or boiler in great shape, providing fast and efficient solutions to your heating needs. Call now to schedule your service and ensure a cozy winter season.
Book Online
Book Online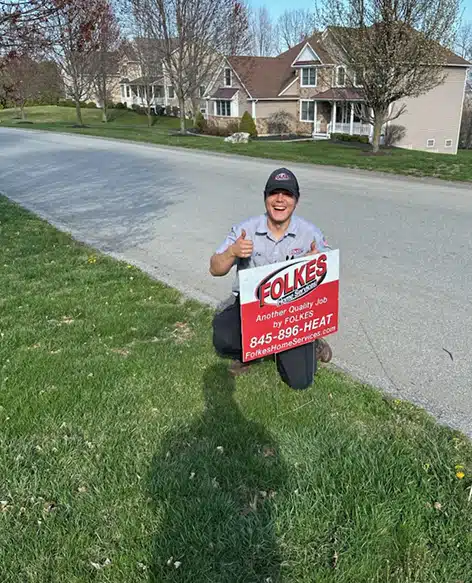 Our Poughkeepsie Heating Maintenance Checklist
Our team follows a comprehensive checklist when we maintain your furnace or boiler. This means that we thoroughly inspect every component of your furnace, ensuring that it meets the manufacturer's requirements. With our expertise, you can have peace of mind knowing your furnace is in excellent working condition when winter arrives.
Should we identify any issues, we will promptly inform you and work with you to repair your unit or replace it if that's the best solution for you. We'll complete your heating repair in Poughkeepsie fast so your heater will be ready for anything.
Additionally, our boiler or furnace service in Poughkeepsie, NY includes the following:
Replacing any filters as needed
Thoroughly cleaning the HVAC system
Visual inspection of the entire HVAC system, including the air conditioner, ducting, and wiring
Book Online
Book Online
Other HVAC Services
We offer additional HVAC services, including:
Commercial HVAC Services in Poughkeepsie
Oil to Gas Conversions
Emergency HVAC in Poughkeepsie
Mini Split HVAC in Poughkeepsie
Duct Cleaning in Poughkeepsie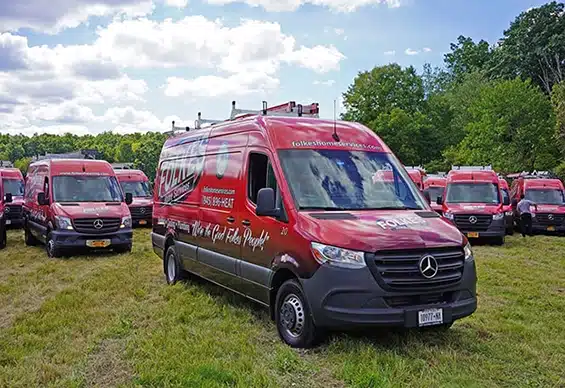 Service in Your Neighborhood
Serving the Hudson Valley & Surrounding Area