Tankless Water Heaters in Poughkeepsie, NY
Are you curious about tankless water heaters in Poughkeepsie, NY? Are you tired of dealing with hot water issues and wondering if one of these systems might be the answer?
At Folkes Home Services, we're here to assist you in choosing the perfect tankless hot water heater. If you decide to go with one, we'll handle the installation to ensure it works seamlessly before we leave your premises.
Book Online
Book Online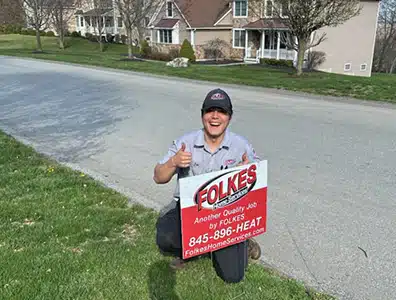 Our Water Heater Services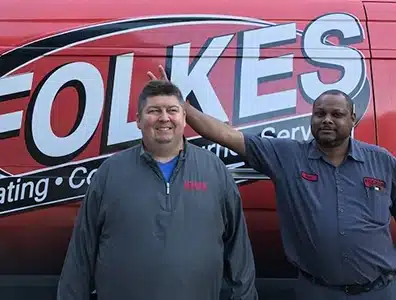 With Folkes, You Always Get
Safety first by thinking twice and acting once.
Delivering "wow" through service by exceeding every customer's expectations.
Demonstrate high levels of integrity by doing the right thing even when no one is watching.
Tankless Water Heater Repair
Worrying about tankless water heater repair in Poughkeepsie, NY is a thing of the past. When you call our skilled plumbers, rest assured that you'll receive the finest assistance possible. We possess in-depth knowledge of tankless water heaters and are confident that we can fix any issue you might be facing. Our team will swiftly diagnose the problem and make the necessary repairs, alleviating your anxieties.
Tankless Water Heater Maintenance
Much like conventional units, tankless water heaters also require maintenance. Our plumbers will visit your Poughkeepsie, NY home and thoroughly test each component of your tankless water heater, leaving you with nothing to worry about. Should any issues arise, we'll promptly address them, ensuring your tankless water heater operates flawlessly.
Tankless Water Heater Installation in Poughkeepsie
Are you in need of a new tankless water heater in Poughkeepsie, NY, or are you considering installing one for the first time? Our experienced plumbers can adeptly modify your plumbing system to accommodate the new water heater. We'll handle the installation, thoroughly testing it to ensure optimal performance.
Additionally, our experts will help you choose the perfect tankless water heater for your tankless water heater installation in Poughkeepsie. We guarantee an abundant supply of hot water for you and your family, regardless of the demand.
Advantages of Tankless Water Heaters vs. Conventional Water Heaters
While the initial installation cost of tankless water heaters may be higher, many homeowners choose them for the remarkable advantages they offer, which more than make up for the investment. Tankless water heaters:
Take up less space, perfect for space-conscious homeowners
Are energy-efficient, leading to long-term cost savings
Heat water only when needed, reducing energy consumption
Deliver hot water on-demand, eliminating the need for a storage tank
Typically have a longer lifespan compared to traditional tanked water heaters
Get Tankless Water Heater Help in Poughkeepsie, NY Today
Contact our team of tankless water heater experts at Folkes Home Services today. We'll promptly assist you with all your water heater needs, ensuring you and your family enjoy uninterrupted hot water in Poughkeepsie, NY. Don't wait – call now to schedule an appointment with one of our skilled plumbers. We're here to help you thrive in Poughkeepsie, NY with top-notch tankless water heater functionality.
Flesh out that Folkes can install, repair and maintain them, also mention the benefits of a tankless heater vs conventional water heaters
Book Online
Book Online
Our Water Heater Services
We offer a large range of water heater services, including:
Water Heater Repairs in Poughkeepsie
Water Heater Installations in Poughkeepsie
Tankless Water Heaters in Poughkeepsie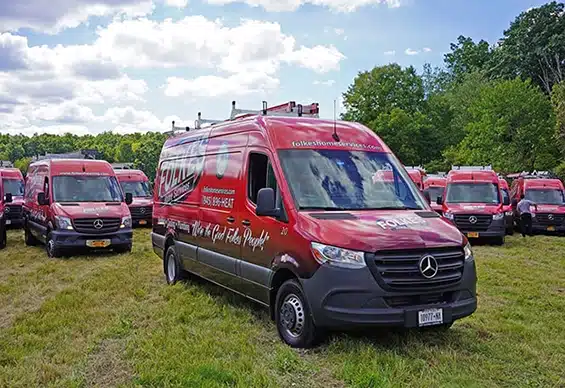 Service in Your Neighborhood
Serving the Hudson Valley & Surrounding Area